Welcome to the inaugural Guitar Accelerator Song of the Month.
Starting this month and each that follows, we will look at some great songs for improving your guitar playing.
These pieces will vary in difficulty from pieces that will challenge the beginner, intermediate to advanced guitar player.
Learn Some Fun Songs That Will Make You a Better Guitar Player
The idea behind the Guitar Accelerator Song of the Month is simple—we will look at pieces that will make you a better guitar player!
Most songs will focus on one primary guitar technique area. So for example, some pieces will focus on alternate picking; others will focus on hammer-ons and pull-offs; some will focus on string skipping, and others will zero in on sweep picking and more.
Now this concept is not new to the Guitar Accelerator Blog, in fact there are already 10 guitar technique pieces found in previous guitar tutorials here. I just haven't designated them as "Guitar Accelerator Songs of the Month" until now. To make it easy for you to find some of these other great technique pieces, you will find some links in the Related Posts at the bottom of this tutorial.
Many of the Songs of the Month will be pieces that you've probably never heard before.
This is intentional.
Hidden Guitar Technique Gems That Will Give You Better Guitar Chops
Yes it is crucial that you learn and master your favourite guitar songs.  However, if this is all you learn, you will find that your playing won't progress as fast as you want.
To improve your guitar playing fast, you need to challenge yourself to improve in specific areas of guitar technique.  Most guitar songs are written as songs—not as guitar technique studies.  This means devoting some time to mastering the Guitar Accelerator's Song of the Month will really pay off.  They will give you better guitar technique in less time.
Frequently, I will select pieces that were not originally written for the guitar. When these pieces are arranged for guitar, they introduce some great technique challenges.
Pieces written for other instruments often do not fit regular guitar fingerings. They can sometimes be very tricky! This adds to the challenge and fun of these pieces.
On top of that, there are lots of great pieces of music that most guitarists have never heard before. It is always a great idea to broaden your musical knowledge by learning pieces in different styles.
Kreutzer's Study #2 – Guitar Accelerator's Song of the Month
This month's Song of the Month is a piece originally composed for violin by Rodolphe Kreutzer (1766-1831). It is simply called "Study Number 2".
"Studies" or "etudes" are pieces specifically composed to focus on specific technical challenges of an instrument.
Now I mentioned earlier that you probably won't recognize most of the Guitar Accelerator Songs of the Month. Well, that's probably not the case with this Kreutzer Study. This is a very popular violin technique piece. The melody from the first measure was also borrowed by Eddie Van Halen and used in his classic guitar solo piece called "Eruption".
Performance Notes
The Kreutzer Study #2 is played in seventh position.  This means your first finger will play the notes found on the 7th fret. Your second finger will play notes found on the 8th fret.  Your third finger will handle all of the notes found on the 9th fret.  And finally, your fourth finger will do double duty by playing the notes on 10th and 11th frets.

Seventh Position
7th fret — 1st finger
8th fret — 2nd finger
9th fret — 3rd finger
10th fret — 4th finger
11th fret — 4th finger
If you are not sure about how fret-hand positions work, read the section Understanding Fret-Hand Fingerings in the tutorial Want to Play Better Country, Rock, Blues, Folk, or Jazz Guitar?
Kreutzer's Study #2 is a great alternate picking and string skipping study for the intermediate guitar player.  Of course, if you are a really ambitious beginning guitar player, you can tackle this great guitar technique piece too.
Here is the link for the printable PDF guitar tab sheet music for Kreutzer's Study #2.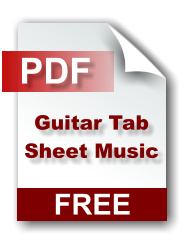 Kreutzer's Study #2 Guitar Tab PDF
Have fun with this piece!
Recommended Resource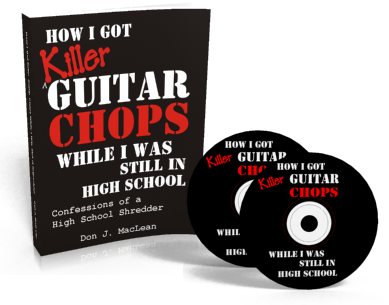 If you are looking for some great ways to improve your guitar technique and overall guitar playing, check out my complete guitar technique course called How I Got Killer Guitar Chops While I Was Still in High School: Confessions of a High School Shredder. It gives you 30 ready-to-use Super-Chops Workouts.