This month's Guitar Accelerator Song of the Month, is a piece that will help beginner to intermediate guitar players improve fret-hand stretching capabilities.
The song we will look at is very short piece called "The Tempest".
A great thing about this piece is that it's super short, so you can memorize it quickly.
The Tempest is a fun piece that goes way back at least to the 1780's.
In addition to working on improving your stretching, The Tempest will also improve your alternate picking and sweep picking.
The Tempest consists of two 4-measure sections that each repeat. So the total piece, including repeats, is just 16 measures long!
This song is played in 6th position. This means your first finger will play the notes found on the 5th and 6th frets; your second finger will play notes found on the 7th fret; your third finger will play any notes found on the 8th fret; and finally, your fourth finger will play any notes on the 9th fret.

Sixth Position
5th fret — 1st finger
6th fret — 1st finger
7th fret — 2nd finger
8th fret — 3rd finger
9th fret — 4th finger
In measures 5 and 6, the fingering deviates from the above fingering. You will find the recommended fingerings shown in the sheet music for this song.
If you don't quite understand how fret-hand positions work, read the section "Understanding Fret-Hand Fingerings" in the tutorial Want to Play Better Country, Rock, Blues, Folk, or Jazz Guitar?
The arpeggios found in measure 5 of The Tempest can be played with either alternate picking or sweep picking. Here's a tutorial covering the basics of how to properly perform sweep picking…Guitar Technique Tutorial: How to Sweep Pick.
Now that we've covered those basics, here is the fully printable PDF guitar tab sheet music for The Tempest.
Have fun with this great little technique building piece!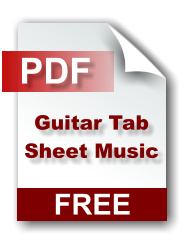 Recommended Resource
Are you ready to make massive improvements in your guitar playing? Discover how the Top 30 Most Powerful Guitar Technique Exercises of all Time can make you a better guitar player.