In my last post we began our look at the Hirajoshi scale.  Today will dig deeper into this scale…
We have already looked at the basic scale fingering for the Hirajoshi scale and how the scale is constructed.  In case you missed it, here is the link:
How to Add Variety to Your Guitar Solos with a Cool Japanese Minor Pentatonic Scale Part 1
When you first learn a new guitar scale it's important to practice the scale forwards and backwards. This will help you to get the basic scale shape under your fingers.  Once you can play the scale ascending and descending, it's time to work on some additional patterns to help you further master the scale.  As you learn more patterns, you'll start to get some melodic ideas for your solos.
Let's take a look at the Hirajoshi scale in 3 note groupings.  All you do is play the scale 3 notes at a time.
So first you play the first, second and third notes.
Then you play the second, third and fourth notes of the scale.
Next you play the third, fourth and fifth notes, etc.
Harijoshi Scale in 3 Note Groupings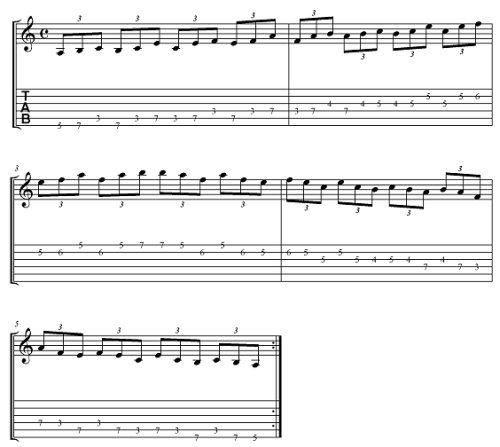 Next, practice the scale in four note groupings…
Hirajoshi scale in 4 note groupings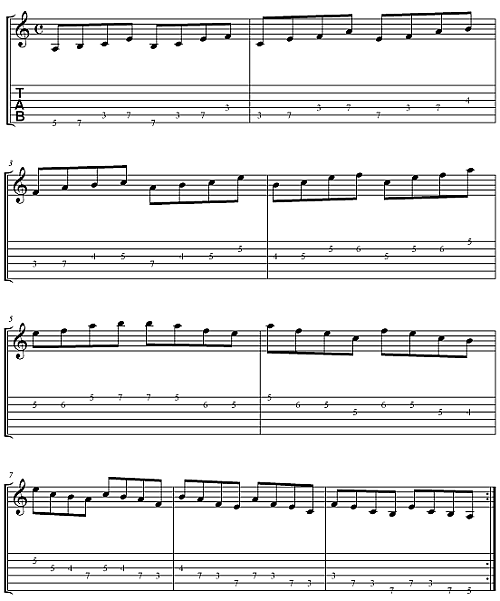 Once you've worked your way through these patterns, you should start to feel comfortable with the scale.
Now you're ready to start to improvise with the scale.
Below you will find an mp3 recording of a chord vamp that you can use to practice soloing on top of.
This vamp uses only two chords: A minor 7 and D minor 7.
You can download the simple mp3 vamp to your mp3 player and then solo away! You could also record yourself playing these two chords and then start to experiment with the scale.
Here is the download link for the mp3 track –>
(To download, just right click on the link and select "Save Target As…" or "Save Link As…")
The first thing I would recommend that you do is play the scale forwards and backwards with the vamp playing in the background.
Here is the tab for the vamp: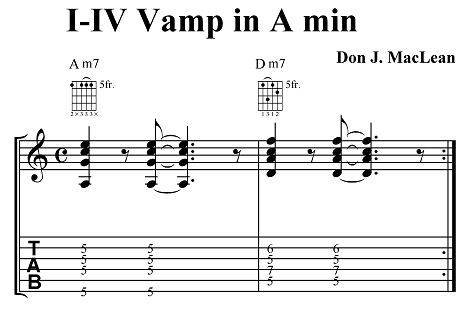 Next play the scale in groups of 3 and 4 notes against the vamp.  Once you've done this a couple of times you will start to get the sound of the scale in your head.  This will make it easier to create guitar solos.
It's Time to Create Your Own Guitar Solos
The best way to do this if you are new to soloing is to start really simple.
Start with a 2 or 3 note phrase.  All you do is find a combination of 2 or 3 notes that you like and create a musical phrase from them.  Once you have your phrase or motif, repeat it over the entire vamp.  Now come up with some sort of an answer to your first motif.  Again, keep it really simple—just two or three notes is all you need.
Now you will have two motifs—sort of a call and response type of thing.
Have fun with these two and start to vary them up a bit.
Change up a note or two.
Experiment with different rhythms and you are on your way to creating a cool guitar solo.
Also remember that the Hirajoshi scale is simply a natural minor scale that has its 4th and 7th notes omitted.  This means where you would normally use a natural minor scale, you have the option of using the Hirajoshi scale for some variety.
In other words, you can create a solo that's in A minor and then for a little spice you play a melodic passage from the A Hirajoshi scale.
For more cool scales you can use to add variety to your guitar solos check out The World of Scales: A Compendium of Scales for the Modern Guitar Player.