It's a common scenario as a beginning guitar player…
You start to learn to play some basic guitar chords.  Then you look in a songbook or some sheet music and see a chord you know and it's played an entirely different way.
What gives?
The very nature of the guitar allows us to play the same guitar chord many, many different ways.  To understand why this is, we will take a brief look at the basic theory behind major chords.
Major chords are built by taking the 1st, 3rd and 5th notes from the major scale.  I covered the basics of the major scale in this blog post: Here's a Quick Way to Understand the Major Scale on Guitar.

The notes in a C major chord are C-E-G.  To play the C major chord all you do is find the notes C-E-G on the fretboard.
As you will see from the diagrams that follow, there are many C's, E's and G's on the guitar neck.  You can play any combination of the notes C-E-G, and you will have a C major chord.  You may double and even triple the notes as needed.  Experiment with this and come up with some different voicings for C major.
Now here is one of the most common ways to play C major.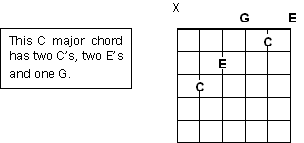 Next we will look at a common way to play C major as a barre chord.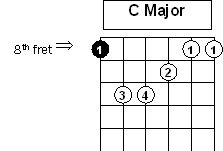 Now here is the breakdown of the notes contained in the fingering…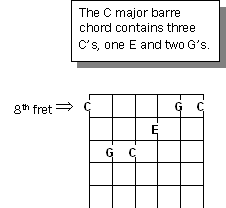 Now let's take it a step further and look at all of the C's, E's and G's over the fretboard.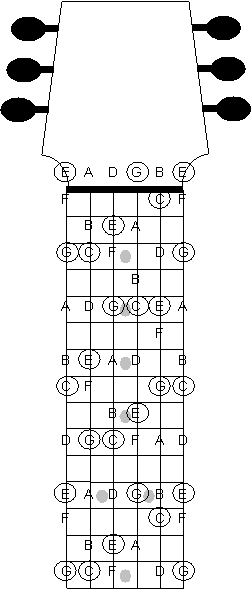 Now you can see why there are so many different ways to play a C major chord!
To play a G major chord, you need the notes G-B-D.  So all you would do is locate the G's, B's and D's on the fretboard.  Then you select the combinations you like and presto…you've got multiple ways to play G major.
For D major you need the notes D-F#-A.
When you understand how a chord is built, you can play the chord many, many different ways.
But Hold on a Minute…
Why would anyone possibly need to know these different ways of playing guitar chords?
One word: variety.
When you know different ways to play chords, it opens up lots of options for you.
As your chord vocabulary increases, you will become a more versatile, creative and interesting rhythm guitar player.  On top of that, as you learn more guitar chords, you will be able to learn guitar songs much faster.
To learn more about the basics of guitar chords and guitar theory check out my music theory course -> Guitar Theory: It's Easier Than You Think.