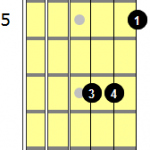 Have you ever wondered how a guitarist can play the melody and chords for a song simultaneously? Want to be able to do it on your own guitar?
The guitar is an incredibly versatile instrument, and when you know how to do it, you can create great sounding chord melodies for many songs.
What is a Chord-Melody Arrangement for Guitar?
In chord-melody technique, or chord-melody style, a song is specifically arranged so that the melody line is simultaneously played with suitable accompanying chords on the guitar.
Continue reading