I was surfing the net this morning and came across an Amazon.com listing for one of the guitar books I wrote in 2005.
The book is called Mega Chops: Scale Mastery Beyond Hanon for Guitar.
I was totally blown away when I discovered the price that one seller is currently asking for this book.
Are you ready for this?
It's $998.98!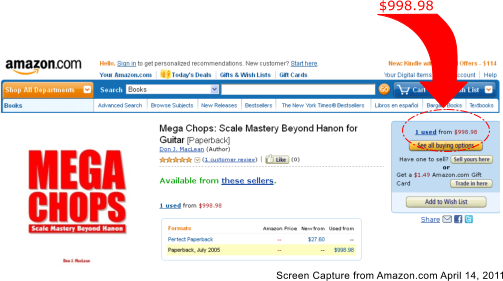 Now I'm not really sure if this is the most expensive guitar book ever, but it certainly is the most expensive guitar book I've ever seen.
I'm certainly very proud of this book and I've received lots of positive feedback from guitarists that are using this method to improve their guitar technique.
In fact, Rogers Stevens the lead guitarist from Blind Melon says:
The Mega Chops Guide has been invaluable to me.

I'm a big believer in the Hanon exercises for piano, and had never considered applying them to guitar. After playing for 20 years, this book quickly took my playing to another level technically.

I use it on tour before every show…it's great for warming up when time is limited.

Use a metronome and take it slowly at first, and you will get great results.

~ Rogers Stevens

Blind Melon
If you're interested in seeing first hand what Mega Chops: Scale Mastery Beyond Hanon for Guitar can do to improve your guitar playing by all means you can grab the used copy from Amazon if it's still available.  But if you would rather get a new copy at a fraction of that price, check out Guitar Hanon – Mega Chops Scale Mastery Beyond Hanon.